Africa's Place on the World Stage - A Talk With Amb. Linda Thomas-Greenfield
Date: Tuesday, March 21st
Time: 4:30 - 6:00 PM
Event: TODAY'S AFRICA - A Talk With Amb. Linda Thomas-Greenfield
Speaker: Ambassador Linda Thomas-Greenfield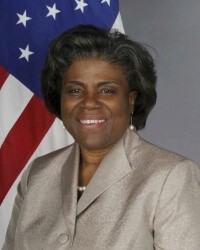 The Institute for the Study of Diplomacy is honored to welcome Ambassador Linda Thomas-Greenfield, former Assistant Secretary of State for African Affairs, as Resident Senior State Department Fellow, effective March 13, 2017. Ambassador Thomas-Greenfield comes to ISD with a distinguished Foreign Service career. In addition to heading the Bureau of African Affairs since 2013, she has served as Director General of the Foreign Service and Director of Human Resources, U.S. Ambassador to Liberia, and Deputy Assistant Secretary of State in the Bureau of Population, Refugees and Migration. The Ambassador is the recipient of the Bishop John T. Walker Distinguished Humanitarian Service Award (2015) and the 2000 Warren Christopher Award for Outstanding Achievement in Global Affairs. As Senior State Fellow at ISD, Ambassador Thomas-Greenfield will serve as a resource for the SFS community on issues concerning U.S. policy in Africa, careers in the Foreign Service and at the Department of State, and on a wide range of humanitarian, gender-based and global challenges.
Please join ISD and the African Studies Program at Ambassador Thomas-Greenfield's inaugural Distinguished Practitioner's Discussion on "Africa Today" on Tuesday, March 21st, at 4:30 p.m. in the McGhee Library.
About ISD Distinguished Practitioners Series
The Distinguished Practitioners Series brings senior practitioners and experts to campus to meet in an informal setting to discuss issues of current interest. Begun in fall 2014, the series has hosted General Wesley Clark U.S. Army (ret.) who spoke about "Power Beyond Force: A New Strategic Vision for America" and a new member of Congress, Seth Moulten (D-Mass.) to discuss prospects for a nonpartisan legislative-executive relationship on foreign policy.
Tuesday, March 21, 2017 at 4:30pm to 6:00pm
McGhee Library 1316 36th Street, NW
Event Type

Departments
Cost

Free

Event Contact Name

Wei Zhang

Event Contact Email

Subscribe