Informal/Illegal Markets and Democratic Governance in Latin America
CLAS Outside the Classroom:
Informal/Illegal Markets and Democratic Governance in Latin America
Informality is a significant structural factor in most of Latin American countries and illegality, including the influence of criminal organizations, is a significant issue in a subset of these countries. Led by Alvaro Santos (GU Law Center) and John Bailey and Juan Carlos Garzón (GU CLAS), the seminar explores informal and illegal markets in relation to state effectiveness and democratic governance in Colombia and Mexico.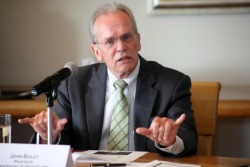 John Bailey has taught at Georgetown University since 1970. Following study and fieldwork in Peru and Colombia, his research since the late 1970s focused largely on Mexico. His sabbatical leaves in Mexico include the Instituto Nacional de Administracion Publica (1979), El Colegio de Mexico (1985), and the Universidad de Nuevo Leon (Monterrey; 1991). He has published books and articles on a variety of policy issues in Mexican politics, including agriculture, public budgeting, decentralization, education, electoral reform, government-business relations and social security. Most recently he has concentrated on issues of national and citizen security in the bilateral relationship and in the Western Hemisphere more broadly. His most recent book is The Politics of Crime in Mexico: Democratic Governance in a Security Trap (2014). Prof. Bailey has chaired the Government Department (1987-90) and directed the Latin American Studies Program (1972-74; 1994-96). During 1980-90 he directed the Mexico Seminar at the U.S. Department of State's Foreign Service Institute. He received an "Honored Faculty" award from the School of Foreign Service in 2002 for excellence in teaching. He retired from the ordinary faculty in 2013 but remains active as an emeritus professor in the Latin American Studies Program.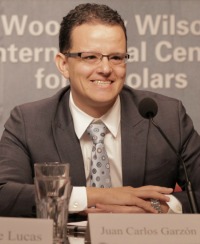 Juan Carlos Garzón-Vergara is an international advisor on security and drug policy reform. Some of his current projects include analyzing the marijuana regulation experiences and assessing the consequences of the drug law enforcement in Latin America. Garzón co-coordinates the project "Organized Crime and Criminal Economies in Latin America and the Caribbean" at Georgetown University. Garzón worked as part of the research team for the United Nations Development Programme's Human Development Report for Latin America 2013, entitled "Citizen Security with a Human Face: Evidence and proposals for Latin America." Garzón was also part of a team of analysts for the "Report on the Drug Problem in the Americas," produced by the Organization of American States, where he worked as a specialist in the Secretariat for Political Affairs (Washington DC) and as coordinator of the Mission to Support the Peace Process in Colombia. Garzón is a Political Scientist from the Universidad Javeriana (Colombia), a specialist in Conflict Resolution and Theory at the Universidad de Los Andes (Colombia), and has received an M.A. in Latin American Studies from Georgetown University. He has also authored newspaper and academic articles related to the armed conflict in Colombia, the peace process, drug trafficking, urban violence, and organized crime.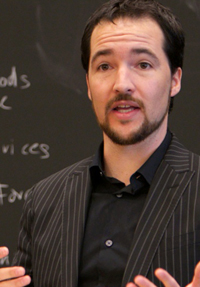 Alvaro Santos is Professor of Law at Georgetown University where he teaches and writes in the areas of international trade, economic development, drug policy and transnational labor law. His recent scholarship critically examines the law and order model for the regulation of illicit drug markets, analyzes the relationship between illegality and violence, and explores alternatives to prohibitionist policies. Professor Santos served as Co-Director of the Center for Transnational Legal Studies (CTLS) in London during 2014-15. He regularly teaches at Harvard's Institute for Global Law and Policy (IGLP) and Georgetown's WTO Academy and has taught at the University of Texas, Tufts University, Melbourne Law School, and the University of Turin. Professor Santos serves on the editorial boards of the American Journal of Comparative Law, the Journal of International Economic Law, the Law and Development Review, and the Latin American Journal of International Trade Law. He holds S.J.D. and LL.M. degrees from Harvard Law School, and a LL.B. from Universidad Nacional Autónoma de México (UNAM).
Lunch will be served. Email Regina (crt33@georgetown.edu) if you require accomodations or have any dietary restrictions.
Tuesday, March 21, 2017 at 12:30pm to 2:00pm
Edward B. Bunn, S.J. Intercultural Center, ICC 450
37th and O St., N.W., Washington
Event Type

Audience

Departments
Event Contact Name

Regina Trigo

Event Contact Email

Accommodations Contact Name

Regina Trigo

Accommodations Contact Email

Subscribe