State-to-State Proliferation Speaker Series featuring Ambassador Jenkins
These sessions will discuss and share perspectives from government, nonprofit, academic, and private sectors on emerging priorities in the nonproliferation and countering state-to-state proliferation sphere.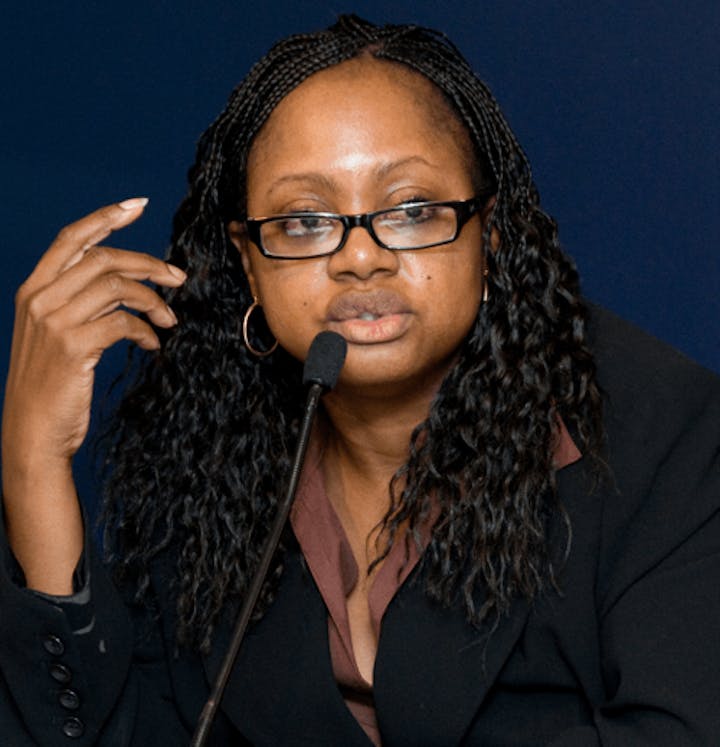 About the Speaker:
Bonnie Jenkins served as ambassador at the U.S. Department of State from 2009-17, where she served as coordinator for threat reduction programs in the Bureau of International Security and Nonproliferation. In that role, Jenkins coordinated the Department of State's programs and activities to prevent weapons of mass destruction (WMD) terrorism with programs funded by other U.S. departments and agencies, and also with similar programs funded by other countries. She served as the U.S. representative to the 30-nation G-7 Global Partnership Against the Spread of Weapons and Materials of Mass Destruction and chaired the Global Partnership in 2012. Jenkins was the Department of State's lead to the four Nuclear Security Summits that took place from 2010-16. Jenkins also worked closely with several international organizations including the Organization for the Prohibition of Chemical Weapons (OPCW), INTERPOL, the International Atomic Energy Agency, the World Health Organization, and the Biological Weapons Convention Implementation Support Unit.
Jenkins is a retired Naval Reserves officer and received several awards for her service. She was a pre-doctoral fellow at the Belfer Center for Science and International Affairs at the John F. Kennedy School at Harvard University in both the international security and managing the atom programs. During that time, Jenkins also worked at the Bernard Koteen Office of Public Interest Advising at Harvard Law School where she advised law students on employment in the U.S. government and public entities. Jenkins holds a doctorate in international relations from the University of Virginia; a Master of Law in international and comparative law from the Georgetown University Law Center; a Master of Public Administration from the State University of New York at Albany; a juris doctor from Albany Law School; and a bachelor's from Amherst College.
For more information, please look here: https://www.eventbrite.com/e/state-to-state-proliferation-speaker-series-featuring-ambassador-jenkins-tickets-65119200281.
Thursday, August 22, 2019 at 4:00pm to 5:30pm
CRDF Global (Arlington Office) Third Floor, Room 2A/2B, Third Floor, Room 2A/2B 1776 Wilson Boulevard, Arlington, VA 22209