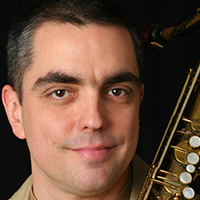 Friday Music Series: Music of Duke Ellington
Music by Duke Ellington
Luis Hernandez, saxophone
Chris Grasso, piano
Nathan Kawaller, bass
Kevin McDonald, drums
Lena Seikaly, vocals
Program includes the following:
Just Squeeze Me
It Don't Mean a Thing
I'm Beginning to See the Light
Love You Madly
All Too Soon
Satin Doll
In a Mellow Tone
A Flower is a Lovesome Thing
Cottontail

Since 2003, saxophonist Luis Hernandez has performed with Afrobop Alliance, a Latin jazz group that won a Grammy® for Best Latin Jazz Album of the year and was nominated for two Grammy® awards in 2008 for their recording, "Caribbean Jazz Project/Afrobop Alliance." In 1996, Luis joined the U.S. Navy Band "Commodores" as tenor saxophonist and featured soloist, and was also a semi-finalist in the Thelonious Monk International Jazz Saxophone Competition in 2002.
This concert is offered in conjunction with the "Duke Ellington on Stage and Screen" exhibition at Lauinger Library's Leon Robbin Gallery, curated by Georgetown University's Anna H. Celenza, Thomas E. Caesteker Professor of Music.
The Georgetown University Friday Music Series features acclaimed artists in free concerts at 1:15 p.m. on select Fridays.
McNEIR HALL, NEW NORTH BUILDING
Friday, March 24, 2017 at 1:15pm
McNeir Auditorium
37th and O St., N.W., Washington
Event Type

Audience

Departments

Tags

Website
Cost

FREE

Open to the public and the press?

yes

Event Contact Name

.

Subscribe