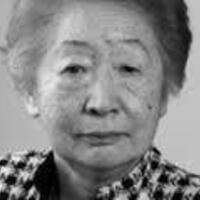 Honorary Degree Ceremony and Reception in Honor of Madame Sadako Ogata
Date: Monday, May 13, 2013
Ceremony: 5:00 PM, Gaston Hall
Reception: 6:00 PM, Healy Hall Second Floor
Register HERE
About Madame Ogata
Madame Sadako Ogata has dedicated her life and work to creating peace, advancing
human rights, and protecting refugees and vulnerable populations around the world.
She has contributed to this work both within the Academy – as Dean of the Faculty of
Foreign Studies and as a member of the faculty at Sophia University, Tokyo – and as a
practitioner, through her service as President of the Japan International Cooperation
Agency (JICA) and in several high-level positions at the United Nations.
As President of JICA from 2003 to 2012, she helped guide Japan's international
development efforts. Her tenure as president was characterized by a field-based
approach that put development workers in the communities they were serving to help
them better understand a region's specific needs and challenges. Under her leadership,
JICA dramatically increased its work in Africa with an emphasis on economic growth,
sustainable development, and increasing mobility among nations. She also led JICA
through significant engagement in peace-building activities in Afghanistan. She remains
involved with JICA today as Special Advisor to the President.
Prior to assuming the presidency of JICA, Madame Ogata served as the United Nations
High Commissioner for Refugees from 1991-2000. She had served in a variety of roles
focused on human rights and human security in her decades-long career, beginning in the
1970s when she was Envoy Extraordinary and Minister Plenipotentiary at the Permanent
Mission of Japan to the United Nations.
Ogata received her B.A. from the University of the Sacred Heart in Tokyo, her M.A. in
international relations from Georgetown University, and her Ph.D. in political science from
the University of California at Berkeley.
Monday, May 13, 2013 at 5:00pm to 7:00pm
Gaston Hall
37th and O St., N.W., Washington
Event Type

Departments

Website
Cost

Free of Charge

Open to the public and the press?

Yes

Subscribe