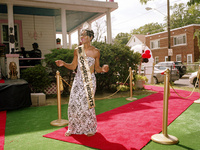 Susana Raab was born in Lima, Peru and raised throughout the United States. She is a fine-art and documentary photographer working in Washington, DC,...
Join the Georgetown Figure Skating Club and the GraceNotes Acapella group at the Washington Harbor ice skating rink in Georgetown for the 3rd Annual Holiday...

Tocqueville Forum Student Fellows meet weekly on Fridays at 5:30pm in ICC 662 to read and discuss a great work of litterature, philosophy, political theory,...

Hosted by the GU Concert Choir Professor Frederick Binkholder, conductor Gi Young Kim, accompanist with Modern Musick Allison Mondel, soprano Barbara...

Note, this event is open to 1st year GSFS students ONLY. Space is limited to 15 participants. Are you interested in consulting but not sure what it is or...
Anna Sommer is an Adjunct Professor within the Program for Jewish Civilization where she teaches courses on the Holocaust and Jewish Civilization. She will...

When people think of NASA, they often think of rockets, astronauts and faraway planets. However, most of NASA's research is directed at our own planet, and...
Interested in study abroad at Georgetown? Come to our Open House and talk to Regional Advisors about opportunities abroad.
Whether you are just starting to put a resume together, or want some help polishing your cover letters, come learn more about how to make your documents work...
Current students of Georgetown College may apply to the Accelerated Master of Arts Program in Communication, Culture and Technology (CCT). Join us 3:00pm...

This orientation session provides an overview of the submission process for MA, DLS and PhD theses. It explains the various submission options that are...