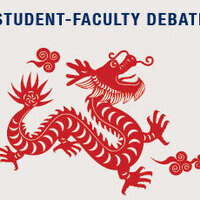 Student-Faculty Debate on Rising Power of China - 6 PM
The event time is 6:00pm-7:15pm AST.
As part of the GEORGETOWN CONNECTS series, a community outreach effort by the School of Foreign Affairs in Qatar (GU-Q), students and faculty will be taking part in a public debate, titled: "China's rise to power will pose a serious challenge to U.S. Global Hegemony in the 21st Century." The debate will reflect the shift to the East in the global balance of power and America's consequent loss of its monopoly of global power in recent years as one of the most important developments in world politics. It has a major impact on all regions of the world, the Middle East and the Gulf states among them.
The Moderator of the debate is Dr. Mehran Kamrava, Director of the Center for International and Regional Studies (CIRS). The members of the "For the topic" debate team will be Dr. Jackie Armijo, Associate Professor, Department of International Affairs, Qatar University, and student Ms. Lubna Sharab, Class of 2013, GU-Q. On the "Against the topic" side will be Dr. Steven Ward, Visiting Assistant Professor, GU-Q, and student Mr. David Daniel, Class of 2014, GU-Q.
The event is sponsored by the International Politics Program (IPOL) and CIRS in collaboration with the Faculty of GU-Q. There will be opportunity for audience involvement in the Q & A portion of the event. The debate will be followed by a reception.
The event is open to the public.
Please RSVP at sfsqevents@georgetown.edu
Wednesday, April 10, 2013
Georgetown Building in Qatar, Auditorium
Education City, P.O. Box 23689, Doha
Event Type

Departments
Open to the public and the press?

Yes

Subscribe