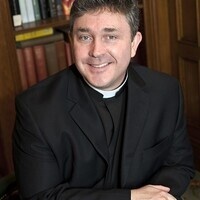 Intelligence and Anti-Semitism: Nazi SS and British MI6 Covert Operations on Boston's Christian Front Organization
Charles R. Gallagher, S.J. is an Associate Professor of History at Boston College and currently holds the William J. Lowenberg Memorial Fellow on America, the Holocaust & the Jews at the Jack, Joseph, and Morton Mandel Center for Advanced Holocaust Studies, United States Holocaust Memorial Museum, Washington, D.C.
This public lecture uses recently declassified British Intelligence records, Nazi SS files, FBI files, and materials from nearly one hundred private and university archives to tell the story of how an unseemly side of Roman Catholicism and the politically-driven objectives of foreign intelligence collided in Boston to create a story which only now can be told.
From 1939 to 1942, a shadow war was fought in Boston between the German Consul General, SS-Oberführer Herbert Scholz and MI6, the United Kingdom's Secret Intelligence Service. At the center of their espionage concerns was a group of Catholics in South Boston who called themselves the Christian Front. Their leader, Francis P. Moran, secretly met with Scholz and undertook a far-reaching anti-Semitic Nazi propaganda campaign in New England.In early 1940, British Intelligence established a front organization in Boston to neutralize Scholz's successful efforts. Recruiting unwitting Boston Catholics who abhorred the Christian Front's anti-Semitism, MI6 created a grass-roots pressure group called the Irish-American Defense Committee. As the Battle of Britain raged, these British-backed Bostonians were successful in persuading the Boston Police Department to detain Moran, disband his organization, and drive them underground.

NOTE: The talk concerns a work in progress and nothing said can be published or recorded without the speaker's consent.
Monday, April 3, 2017 at 3:30pm
Mortara Building
3600 N St., N.W., Washington
Event Type

Audience

Departments

Website
Cost

Free

Open to the public and the press?

Yes

Event Contact Name

Michelyne Chavez

Event Contact Email

Accommodations Contact Name

Michelyne Chavez

Accommodations Contact Email

Subscribe